Minix Neo X8-H review
Monday, February 23rd, 2015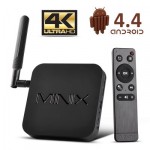 Media players are very populair nowadays they are inexpensive and you can make a mini PC from every TV. Whether you want to simply relax and watch some Netflix on your TV, play game or your own video's with XBMC.
Minix what is that?

The manufacturer of this Android media player or even a cooler name 'media hub' is Minix. This Asian manufacturer has been producing media equipment since 2008 and has an office in HongKong and the USA. Their mission is to produce high quality state-of-the-art computer technology combined with design. They don't produce cheap media players from $ 20, their products are in the mid / high-end range.
MINIX NEO X8-H review
Minix has a media player product line called 'NEO' consisting of eight different models with varying specifications (prices). NEO X5 Mini is the cheapest model available for about $60, the top model represented by the NEO-X8 H Plus costs about $150.
NEO X5 mini (+/- $60)
NEO X5
NEO X6
NEO X7 mini
NEO X7
NEO 8
NEO X8
NEO X8-H Plus (+/- $150)
Minix Neo hardware
In the housing of the Minix Neo X8-H, you find a very fast Cortex-A9 (ARM) Quad Core processor (CPU) @ 2.0GHz and an Octo-core (8 cores) Mali-450 graphics chip (GPU) powerful enough to stream even 4K ultra High Definition video's (resolution of 4096 × 2160!).  The Minix Neo X8 has also the following build in features software Dolby and DTS decoding, 2GB DDR3 RAM, 8GB eMMC storage, HDMI 1.4, 100 Mbps Ethernet port, 802.11n WiFi, Bluetooth 4.0, 3 x USB 2.0, SD / MMC Card Reader, 3mm jack (headphone) and an IR (infrared) receiver. It is a well-equipped media player with enough connectors for example: headphone, SD card or an external hard drive with movies.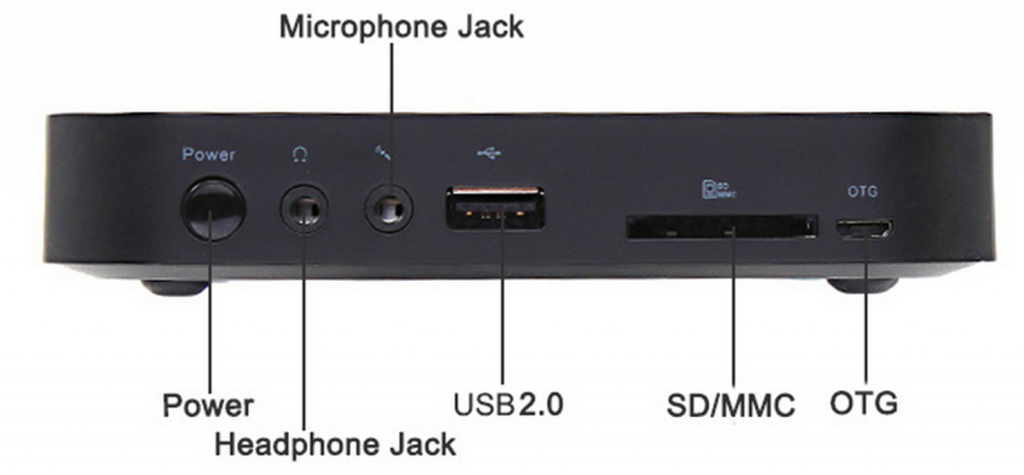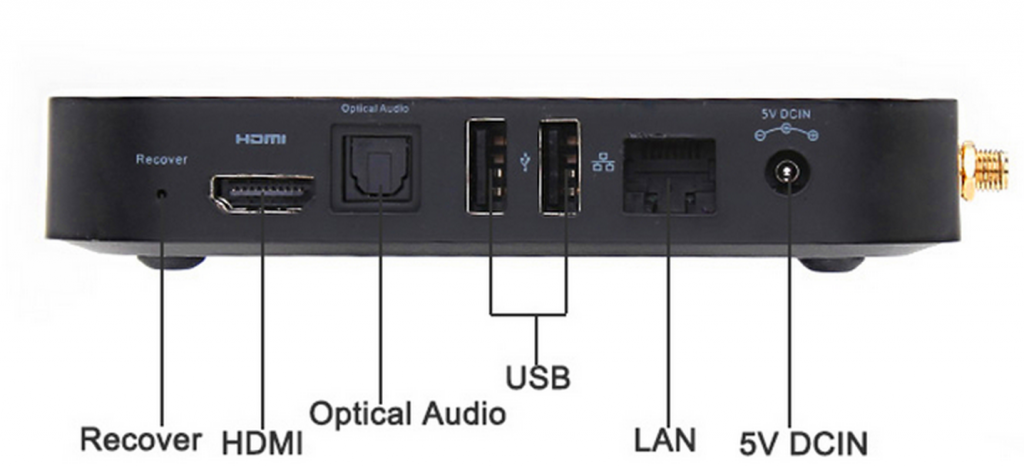 In the retail box you obviously find the media player itself the Minix NEO X8-H, IR remote control, WiFi antenna, HDMI cable, Micro USB cable, OTG cable, user manual and a 5V power adapter.
The housing is made of high quality plastic, and feels very solid. At the top of the case you find the Minix Logo and one at the bottom of the Android mascot (who does not know him). The extended wifi antenna is not very sexy.
Why they could not get the antenna into the housing such as for example an Apple TV is a good question, we can't answer that one for you. However in most case, these media player will be placed behind the TV. At least that's our experience.
Benchmarks
Processor
Excellent
RAM
Very excellent
2D Graphics
Excellent
3D Graphics
Very excellent
As shown in the benchmark table above is the performance of the Minix NEO-X8 H excellent! The combination of a fast CPU, enough Ram (2GB) and a strong video chip provides a smooth experience. Even the hardware is already ahead and is ready for 4K video (streaming), so the next few years, you're safe!
Minix Neo software
All of the Minix Neo media players running on Android version 4.4.2 (also known as KitKat) operating system from Google, known to many people from their Smartphone or Tablet. Minix has developed its own"skin"  they have put a layer on the Android operating system so that it is easier to operate with a remote control. In the picture below you can see 'Minix Launcher skin' at startup you can also choose for the stock (default) Android skin or the version developed by Minix. The Minix skin has many similarities with the Metro (tile-based) interface of Windows 8/8.1. The Skin looks very clear and is easy to navigate through the different menu's.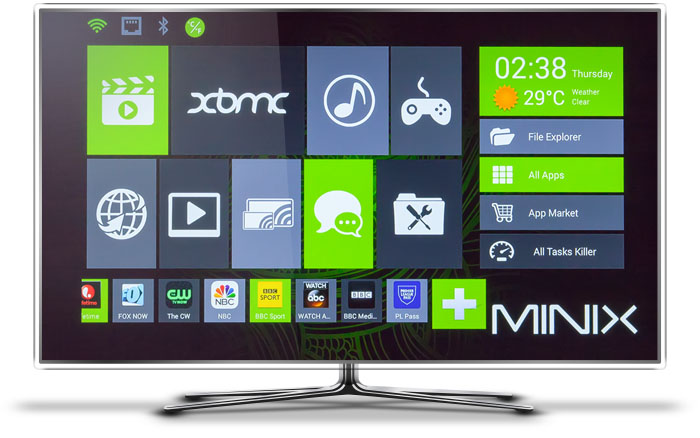 There are already a number of Android apps preinstalled including: Netflix, Skype, Gmail, Google Maps, AirDroid, Mira Cast and XBMC. Obviously Android also offers access to the familiar Google Play store with lots of apps. XBMC is a popular open source home theater application allows you to play photos, music and movies. This version has been adapted by Minix XBMC so that it works on Android. XBMC supports almost any media format including 4K movies.
Minix Neo X8-H review pros and cons
After testing the media player we have only positive findings. The only downside is that our model was delivered with a US adapter, however there was an EU plug in the box but they don't fit together very well.
Pros:
The AMLogic S802-H processor is extremely fast
Extremely quiet, produces no noise and heat
Interface in different languages
Minix NEO Android skin
Ready for 4K video
Regular Minix system updates
Active Minix community
No 'useless' apps installed
Cons:
EU plug adapter has not a good fit
Where to buy?
Minix NEO X8-H shipping from EU – $185
 Minix NEO X8-H shipping from China – $150
Or search the cheapest one with the search function of SearchingPanda.
Summary
Reviewer
Review Date
Reviewed Item
Author Rating