Chinese webshops with local warehouses
Friday, May 30th, 2014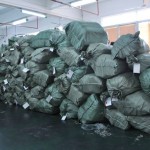 You may have noticed it; more and more Chinese webshops are setting up a warehouse outside China. These warehouses are located closer to you, the customer in Europa, Australia and the United States. But why are they doing this and what are the advantages and disadvantages? Almost everybody knows that when you buy something from Chinese webshops you just need to have some patience. This is because the delivery of your gadget from China can take up to several weeks. The Chinese webshops know we are impatient and try to lower the shipping time. They do that by building a warehouse closer to your house. A warehouse like that normally does not contain all the products they sell but only the best selling ones. And because it's so close to your home delivery can be as short as 3-5 days sometimes. That's way faster than the usual 2-5 weeks! This all sounds very nice. But there is one big disadvantage: the shipping costs. Because when buying from a local warehouse the products aren't shipped to you under HongKong's export arrangement. You may expect normal or even higher shipping costs compared to any local webshop in your country. On the other hand, your product normally already has been through customs, so you won't have to expect any additional fee's like clearance charges.
Advantages
Faster delivery
Already been through customs
Disadvantages
Higher shipping costs
Not the full assortment
So concluding; is ordering from a local warehouse a good idea? If you are impatient or need the product just as fast a possible: yes. But if you don't mind to wait the normal time for delivery ordering from the warehouses in China is a better idea. It saves you quite some money. If you would like to know if a Chinese webshop has a local warehouse, just watch out for it while ordering your product.